Positive Feedback ISSUE 58
november/december 2011
RMAF 2011: Robinson's Audio Oasis! Awards
by David W. Robinson
Merlin Music Systems/Cardas Audio/Ars Sonum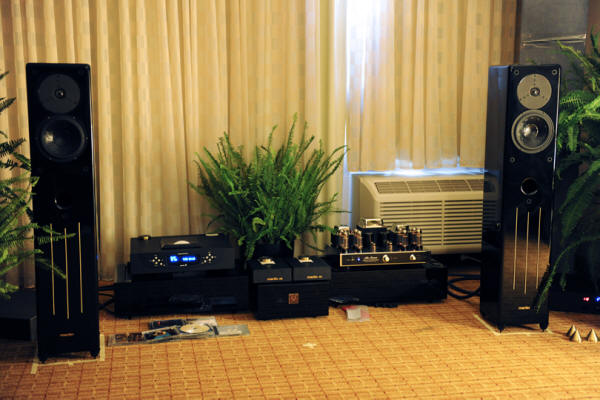 Bobby Palkovic and Rich Brkich returned to RMAF 2011 after missing a couple of years. It was good to see Bobby again after the hiatus.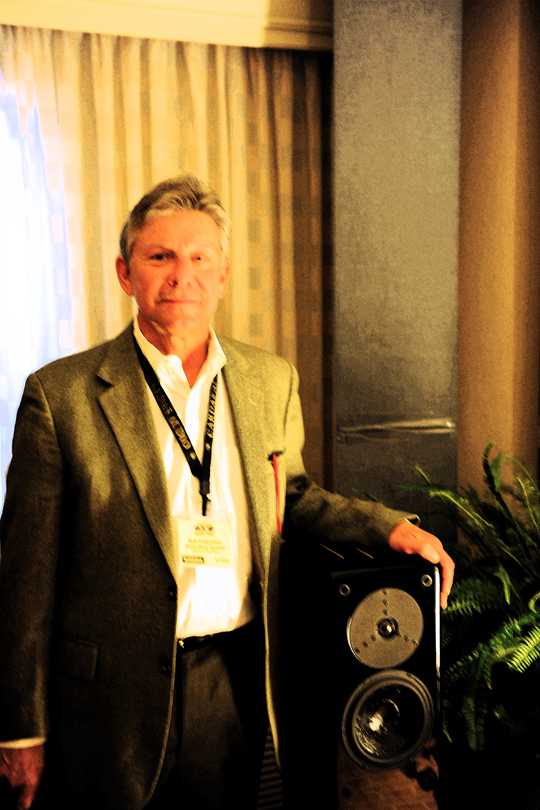 Bobby Palkovic of Merlin Music Systems with his Master VSM, Master BAM, and Master RCs; fresco by Robinson.
Bobby had shifted from his long-standing relationship with Joule Electa VZN-100 100 WPC OTL monoblocks to using the Ars-Sonum Gran Filarmonia 60 WPC (40 WPC Pure Class A) tube amp. All cables were Cardas Audio Clears. The system list:
Merlin Music Master VSM with Master BAM and Master RCs: $15,200
Ars-Sonum Gran Filarmonia Integrated Amp: $10,000
Audio Aero Capitole CD player: No price available
Cardas Audio Clear Cables: No price available
Stands by Critical Mass Systems: No price available
Bobby's rooms are always musical… always. He plays great tunes… this time CDs… and shared his trove of recordings with anyone who came in the door. The Master VSMs were sounding better than anything I've heard from Bobby, period. He's taken his basic design, and has tweaked, and optimized, and fought to get the best that he can get out of his classic two-way design. Given the design parameters, the results were over-the-top: deep, rich bass that was well controlled, a wondrous, luscious midrange, and an extended top end, courtesy of the Ars-Sonum/Cardas Clear combination. The Critical Mass Stands are some of the very best that I know of, and add a level of transparency that's hard to believe, unless you've done the comparisons with other stands. (I have.)
I listened for a while. No doubt about it, this was another PFO Audio Oasis! Award for Merlin Music and Cardas Audio… this time featuring Ars-Sonum and Critical Mass Systems.
Welcome back, Bobby!